Artist Scott Wilkowski Infects 6 Designer Toys in …Of All Ages – at DKE booth SDCC
FOR IMMEDIATE RELEASE
…Of All Ages
Artist Scott Wilkowski Infects 6 Designer Toys
July 11 – July 15, 2012  San Diego Comic-Con
DKE Toys booth #4728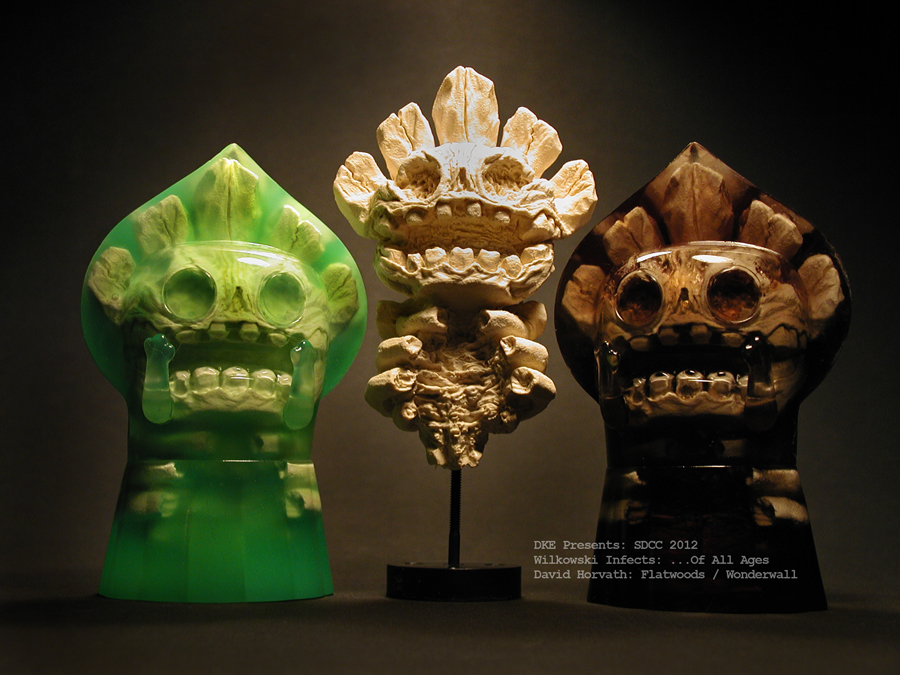 Scott Wilkowski has been busy putting skulls, skeletons and creepy creatures inside favorite designer toys. For …Of All Ages, the follow up to his last solo show Skin Deep, Scott infects Ron English's "Mousemask Murphy", Ferg's "Misfortune Cat", David Horvath's "Flatwoods", Frank Kozik's "Labbit", Kathie Olivas' "Two Faced Hazel", and Brandt Peters' "Skelve".
The show will premiere July 11th at the DKE Toys booth #4728 during 2012 San Diego Comic-Con.
Scott Wilkowski, Ron English, Ferg, David Horvath, and Frank Kozik will all be in attendance at San Diego Comic-Con.  There will be signings with all attending artists. *Signing dates and times to be announced.
Each of the six hand-cast resin editions will be limited to 25 pieces of two different colors each (50 total of each style).
Prices are as follows:
$125 – Ferg's Misfortune Cat
$125 – David Horvath's Flatwoods
$150 – Frank Kozik's Labbit 5" by Kid Robot
$250 – Ron English's Mousemask Murphy
$300 – Brandt Peters' Skelve
$300 – Kathie Olivas' Two Faced Hazel
*Release dates and times to be announced.
Scott wanted to go beyond the more standard bones seen in his previous show Skin Deep (www.skindeepartshow.com) and said that …Of All Ages will feature, "alien sightings, ancient Greek one-eyed giants, flying war legends, and mystics of fortune– …Of All Ages encompasses myth and mysticism dating from 8th century BC to 1952 AD."
…Of All Ages is presented by DKE Toys. Dov and Sarah Jo have produced several art shows together including: The Vader Project, Spoonful of Star Wars, STUFFED: a plush food show, The Custom Yoka Show, and the prequel to …Of All Ages, Skin Deep, by Scott Wilkowski.
Scott Wilkowski is a Wisconsin-based artist and sculptor. He perfected the process he used to produce …Of All Ages for The Custom Yoka Show, which premiered at Designer Con in 2009. His piece was the first to sell and was so popular it became a special edition with new pieces showing and selling out at each of the seven stops on The Custom Yoka Show US gallery tour. The pieces he created in collaboration with designer toy creator JAMUNGO for San Diego Comic-Con in 2010 and 2011 were also instant sell-outs. In 2011 Scott came up with Skin Deep featuring 6 "infected" designer toys. Skin Deep showed at Designer Con and later traveled to Lulubell Toy Bodega and Screaming Sky Gallery. Scott works as a professional sculptor and has done sculpting work for Sideshow Collectibles, McFarlane Toys, Disney and Sanrio. www.scottwilkowski.com
DKE Toys: Dov Kelemer & Sarah Jo Marks are Curators of …Of All Ages and Founders of DKE Toys, the largest independent wholesale distributor of designer toys, limited edition art objects, collectibles, and gifts in the world, exclusively representing hundreds of artists, designers, and boutique manufacturers.
www.dketoys.com
Sarah Jo on Twitter: www.twitter.com/SarahJo
For DKE news: www.dketoys.com/blog