Full Reveal: Scott Tolleson x Suckadelic for Super Suck Up!
Here it is, the first look at the packaging for Scott Tolleson's take on a Sucklord Suckpeg, "The Original Blow Peg". These hand-painted figures will retail for $75 each. Edition size is 50.
These figures will be released on November 3, 2012 at Designer Con in Pasadena, CA. If you can't be there, we are working out a way for you to be able to buy them that very day. We will announce all that information as it materializes. For more images, you can follow the DKE Toys Flickr. We post images as they show up around here.
Time for math! There are 16 artists in the Super Suck Up! including The Sucklord. 2 artists decided to make custom pegs instead of figures. Guess they are extra special! As the Sucklord has paid homage to the beloved Peg People of our youth with his Suckpegs, now Scott Tolleson sucks up to Mr. Sucklord with this gold bikini-clad Princess, an awesome take on an original card that Scott had in Suckpax 2. A mash-up, that keeps mashing up.

Bonus pic! Here's the card that inspired the figure!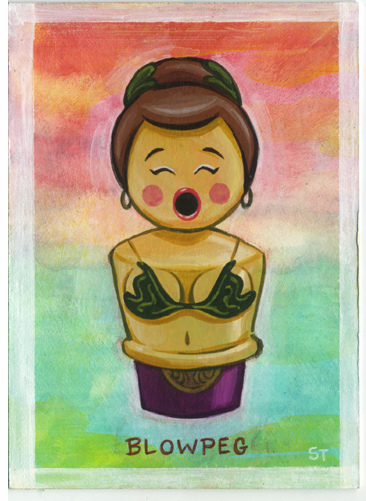 See the full line-up here, in our original post.