DesignerCon 2021The 1920s Silver Screen Art Show joins the Golden Age of Animation
Over 30 DKE artists create hand made action figure editions
November 12-14 2021

Every year DesignerCon organizes events and aesthetics around an important pop-culture theme. For this edition of DCON, the expo celebrates Gold Timey: The Golden Age of Animation with an art show, curated by Carmen "Jane Dope" Acosta. DKE Toys was asked to curate a selection of hand made action figure editions to be included in the main art show, featuring characters from The 1920s Silver Screen. Over 30 artists created small editions.

All art show editions will be for sale thru the DKE online store FIRST at NOON PACIFIC on Friday November 5th. Anything not sold out may be temporarily taken off the site to go to the live show starting on November 12th. And anything left over will go back on the site when we return.

At DCON the figures will be exhibited at the DKE booth as well as included in the main DCON Art Show Space. 

Store link www.dketoys.com/store 
More and updated information www.dkecon.com
Check out all the releases on Instagram @dketoys
Get tickets to DCON www.designercon.com

There are always more photos on our Flickr. Link for the DKE Toys component of the DCON 2021 Art Show https://www.flickr.com/photos/dketoys/albums/72157720017975876

Dov Kelemer is available for interviews. We are also happy to facilitate getting you in touch with any artists for interviews as well. Thanks in advance for your coverage and support!

Trippy Willy Smoked The Skeleton Pipe by Electric Blueberry Studio

DesignerCon 2021 – Gold Timey-The Golden Age of Animation/1920s Silver Screen
Links go to artist's Instagram
Acme Eclectic Company
Aloud Spacelab
Barely Human
Dystopian Customs
Edwin Salas
Electric Blueberry Studio
Epoxy Crusader
Geezer Periodicals
It Went Bad
Janky Toys
Joshua D. Hoaglund
Joshua's Toybox
Kjelshus Collins
King Spider Toys
Mark Todd
Lili Todd
Medeuces Wild
Mug Costanza
Mr. Dan Productions
Nekosatsu Toys
OnlyYoliArt
plasticpurpose
Plastik Cheez Productions
Radical HQ
SkipBroToys
SpandEX STUDIO
Sphinctar Toys
Stanfield Toys
StarVenger
Viktor's Vintage
WFDJ
Metropolice by Dystopian Customs

Sliced Eyeball Wind-Up Toy by Barely Human Toys

Lil Miss Olive by Lili Todd

Phantom Starkiller of the Opera by Stanfield Toys 

Pooeye by Mark Todd

Illegal Vampire by Edwin Salas
===================================================================
About DesignerConFounded in 2005 by Ben Goretsky, DesignerCon brings together artists, manufacturers, distributors, and retailers in the designer toy / vinyl collectibles market and has grown to incorporate everything in the design world including apparel, plush, printing, sculpture, designer toys, and both fine and urban art. The steady growth DesignerCon has enjoyed correlates with its popularity in today's art nerd, geek culture; collectors and designer toy lovers alike wait through the night for new releases, pre-orders for new artist collaboration apparel are sold out within minutes, and artists use the convention as an opportunity to announce exclusive releases and collaborations.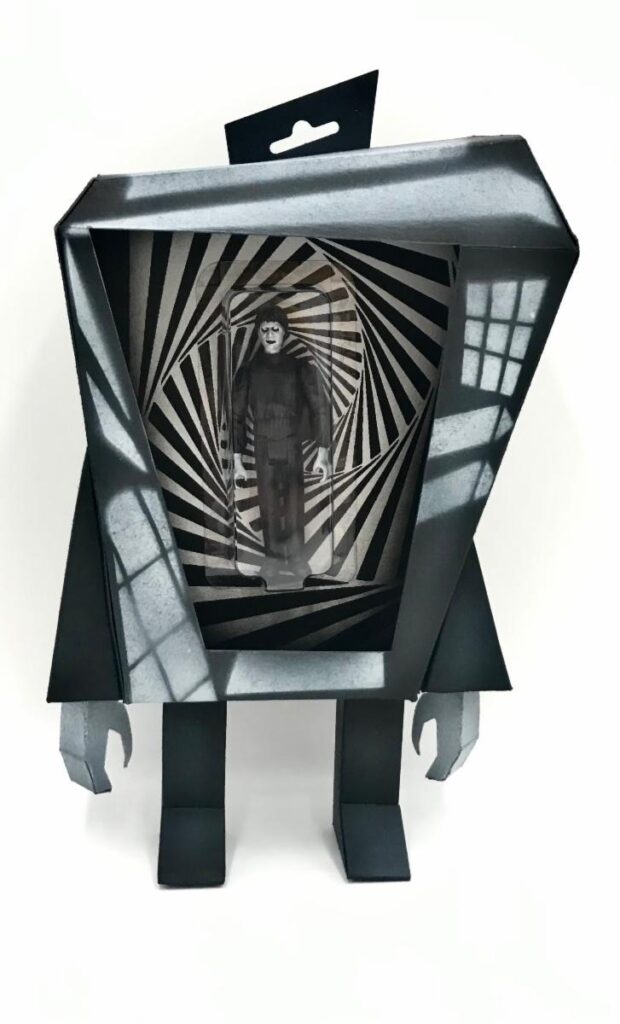 Caligari Guy by Nekosatsu Toys